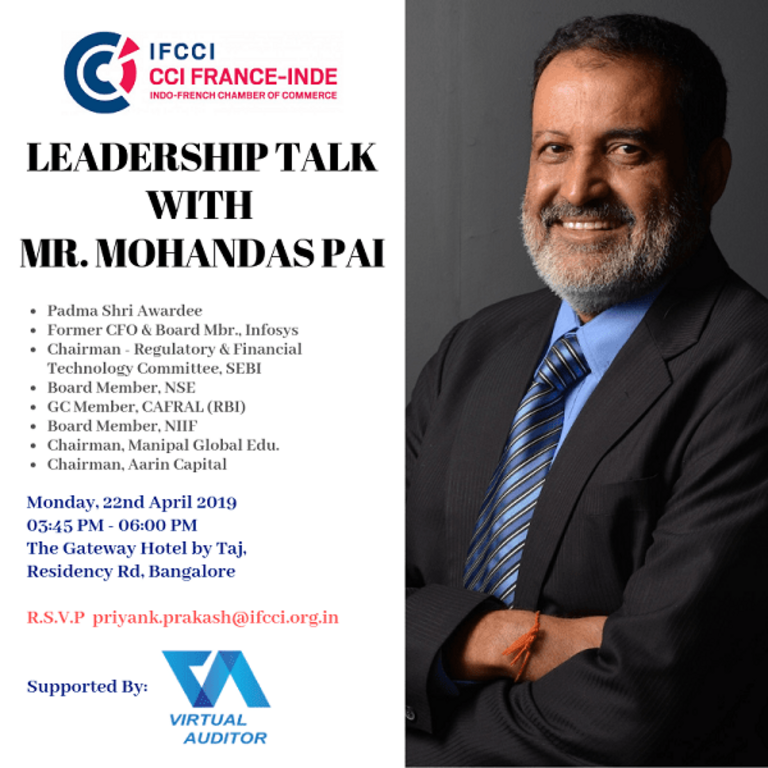 The Indo French Chamber of Commerce and Industry (IFCCI) in Bangalore supported by its member, Virtual Auditor is organizing for the first time, a highly exclusive closed-door Leadership talk with Mr. Mohandas Pai with the objective to give insights to the Indo-French business community on:
Doing business in India
Scaling up an enterprise and the management of various functions
Managing a large workforce
Common challenges faced by leadership in a company and ways to tackle them
How larger companies can work in tandem with smaller companies
The Future of Entrepreneurship and Start-ups in India viz-a-viz the world
Mr. Mohandas Pai is an Indian businessman, who as the CFO of Infosys, played a strategic role in transforming the company into one of the world's most respected and widely known software services firms and also helped enable the company to receive the first ever listing of an India-registered company on NASDAQ.

He is a Padma Shri Awardee, and one of the most dynamic philanthropist and influential mentor & investor in the country.

Succeeding his role at Infosys, Mr. Pai has taken up other prominent roles in parallel:
Chairman - Regulatory & Financial Technology Committee, SEBI
Board Member, National Stock Exchange
GC Member, CAFRAL (RBI)
Board Member, NIIF
Chairman, Manipal Global Education
Chairman, Aarin Capital
Be sure to register for this exclusive event at the earliest, as there are limited seats.
Monday, 22nd April 2019 | 03:45 PM - 06:00 PM
The Gateway Hotel by Taj, Residency Rd., Bangalore

IFCCI Member Fee: INR 1200 All Inclusive
Non-Member Fee: INR 1800 All Inclusive
Prior registration and Payment mandatory.
RSVP to communication-bangalore(@)ifcci.org.in or call us at 080-6194 9749