The event will focus on the success stories of Indo-French companies in India despite the Pandemic and the importance of Industrial Ecosystems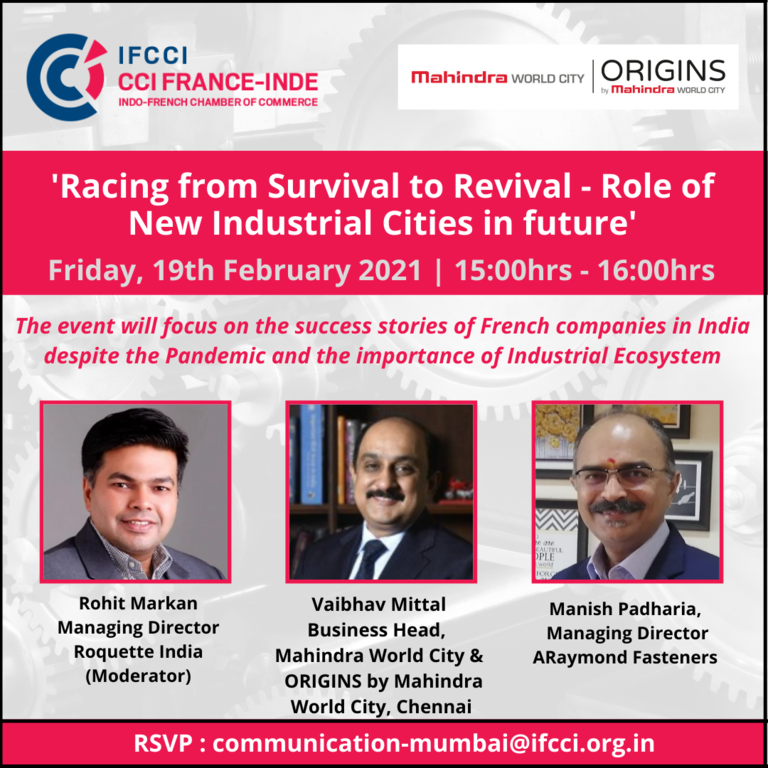 The Indo-French Chamber of Commerce & Industry & MWC invite you for a Webinar on
'Racing from Survival to Revival - Role of New Industrial Cities in future'
Details of the event:
Day and Date : Tuesday, 19th February 2021
Time : 15:00hrs - 16:00hrs
Program:
15:00hrs: Welcome Remarks by IFCCI
15:15hrs: Fireside Panel discussion:
Mr. Rohit Markan, Managing Director, Roquette India (Moderator)
Mr. Manish Padharia, Managing Director, ARaymond Fasteners India
Mr. Vaibhav Mittal, Business Head, Chennai, Mahindra World City
15:50hrs: Showcase of a Success Story Case Study by Mahindra World City(AV) - 5min
15:53hrs: Interactive Q&A
16:00hrs: Vote of Thanks
Context: The Government of India is in talks with more than 1000 foreign companies to shift manufacturing base to India; and is working on EODB, tax reforms, FDI and other measures. Additional policy impetus towards infrastructure, local manufacturing through 'Atmanirbhar Bharat' and technology-driven entrepreneurship will drive demand for well-managed industrial ecosystems that are strategically connected to ports, national highways and talent hubs in India.
The dramatic spread of COVID-19 has disrupted lives, livelihoods, communities and businesses worldwide. The global and interconnected nature of today's business environment poses serious risk of disruption of global supply chains that can result in significant loss of revenue and adversely impact global economies. Thankfully, the pandemic has not affected our integrated and industrial cluster business in the same scale as it has affected other sectors.
No Registration Fees
RSVP: communication-mumbai(@)ifcci.org.in
We look forward to your participation!