IFCCI along with The French Institute in India have the pleasure of invite you to a R&D Seminar at the Research Park of the IIT Bombay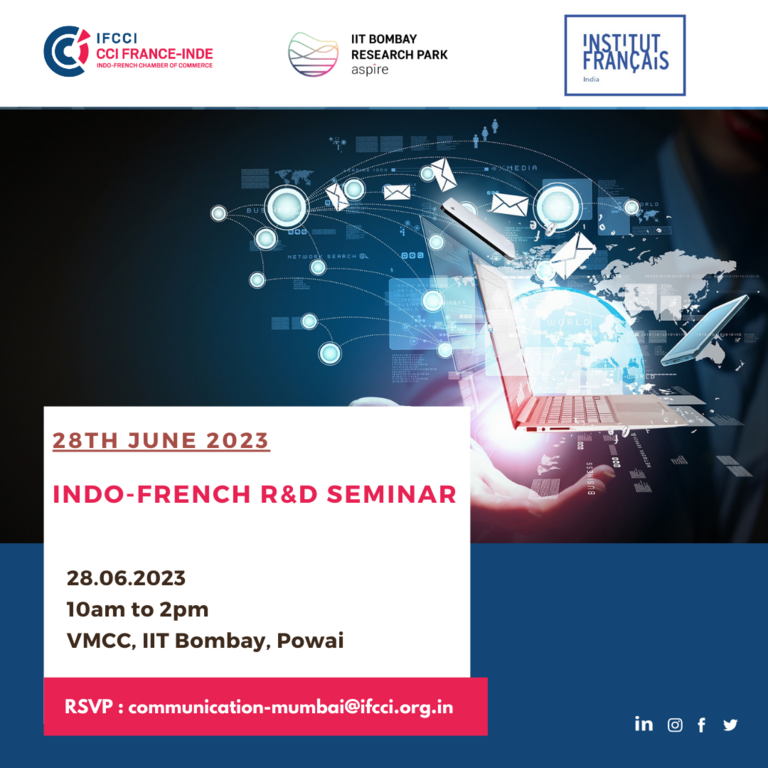 The R&D Club is an initiative of the French Institute in India / Embassy of France in India in 2012. It aims to gather French and Indian companies, startups, and academic institutions who may share their experiences and best practices, discuss difficulties and solutions, and explore the opportunities of cooperation with partners in the field of science and technology. Several topics of common interest are regularly debated as for instance the establishment of public-private partnership, the needs of skilled human resources, the funding of Indo-French collaborative research, etc.
This Club will be an opportunity to bring together academia, research and industry around R&D issues, to improve and/or discuss partnerships, to talk about your projects in relation with academia, to propose some success stories of public/private cooperation, and to interact with the Embassy on existing tools dedicated to Franco-Indian cooperation.
This event is not intended to focus on a specific theme. However, some emerging areas of interest will be introduced, either through a presentation or a panel discussion about AI and machine learning, green energy and green hydrogen, and electrical mobility.
We will also have the pleasure of welcoming Jacques Mercadier, Professor at the "École Nationale Supérieure en Génie des Technologies Industrielles" in Pau, France, and Vice-President of the "Fédération Gay-Lussac", an important network of chemistry schools. Professor Mercadier will tell us about a strong cooperation he is developing with 19 IITs.
In order to adapt this workshop to your expectations and to enable a more productive exchange between academia and industry, we request you to kindly complete this questionnaire.
https://docs.google.com/forms/d/e/1FAIpQLScQ3l1stLwpCFXPv4zXDuvrkx2qdFZKHZSNxmXCVomsfUySHw/viewform
We sincerely thank you for your cooperation and look forward to your presence at the first R&D Club meeting on the 28th of June at IIT Bombay, Powai
Draft Program : CLICK HERE
Kindly Note:
Prior registration is compulsory | Limited seats available
To participate, request you to kindly RSVP your details to communication-mumbai(@)ifcci.org.in
Name:
Designation
Company Name:
Contact Number:
Request you to kindly block your diary or alternatively depute a senior colleague to be available for the event.
Looking forward to your participation!